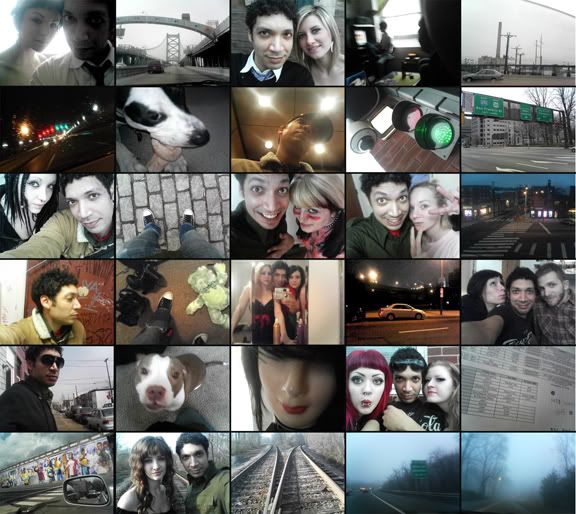 Optphoto broke some of our own records this wknd. Over the past 2 weeks I booked 3 days worth of shoots in Philadelphia. 13 girls to be exact. The purpose of this little venture was to bulk up my portfolio and branch out to new areas. This also helped me think outside this lil box called Morris County, meet new people, get into adventures and hang with a few good friends.

Within the next year Optimism Photography will be offering a new services in Portfolio & Identity Design. (Hair & Make-Up. Comp Cards. Prints. Logos. etc.) All the photos taken will help to show future models what services we can offer and also help branch OptPhoto out to people in the Philly area who might not see my work other wise.

Booked solid from 12pm to 11pm for 3 days straight, we took illadelphia by storm. By "we", i mean ME, but here are some peoples who def deserve props for helping this first lil road trip go so well:

• The Hogan Family
- Kat
- Orrin
- Bean
- Ham
- Pork Chop
• LisaLobotomy MM# 860162
• Octavia MM# 619107
• Smurf MM# 523648
• Karina MM# 602368
• Rachie Tartz MM# 125284
• Sweet Dee MM# 789693
• Whitney MM# 188603
• Emily & Lisa P MM#
• Key MM# 22830
• Susan Coffee MM# 1029481
• Alya

SNAPM was a nice way to start the wknd. SNAP* is a monthly meet & greet and shootout studio event dedicated to giving exposure to ALL talent, hobby to professional. You can mingle, shoot, and share your ideas with each others.

SNAP* is held at Wilmer's STUDIO 6 in PASSAIC, NJ (currently redesigned into a 6,000 square foot contemporary warehouse loft studio) Every month SNAPM contains: - Featured Models, Collaborative Photographers, Makeup Artists, Stylists and Designers giving them maximum exposure and offering you a chance to book and shoot with them. Here are a few pics from the event courtesy of http://snapmup.ning.com/:


Many, Many Many new sets to come as well as a few images from Exoskeletal Philidelphia.

OptPhoto © 2009
www.optphoto.com